The Rich Cultural Heritage of Gauchos and Criollos: A Full-Day Journey in Argentina
Argentina is a land of diverse cultural heritage, where stories of the gauchos and criollos weave a compelling tapestry of its past. Exploring the Pampa region through a full-day tour offers a unique opportunity to immerse yourself in the captivating history and arts legacy of these iconic figures. From traditional dances and music to exquisite craftsmanship and mouthwatering cuisine, this journey will leave you enchanted with the magic of Argentina's gauchos and criollos.
Discover Authentic Gaucho Culture
Embark on a journey back in time as you delve deep into the realm of gauchos and their fascinating way of life. The tour include a visit to a traditional estancia, a large ranch that has preserved the gaucho traditions for centuries. Here, you will have the chance to witness authentic gaucho skills, such as horseback riding and cattle herding, highlighting their profound connection with nature and livestock.
Immerse yourself in their vibrant culture as you savor a traditional asado, a mouthwatering barbecue prepared by gauchos themselves. Feel the warmth of Argentine hospitality as you join in their artistic folk music and dance performances, where melodies of the guitar and drum create an irresistible rhythm that echoes the spirit of the land.
Unravel the Stories of Criollos
The journey continues towards the enchanting world of criollos, descendants of European immigrants who settled in Argentina. Unravel tales of their struggles, resilience, and contributions to the country's cultural legacy. You will have the chance to visit a criollo art museum, showcasing a captivating collection of paintings, sculptures, and handicrafts, all inspired by local traditions and indigenous motifs.
Witness the artistic craftsmanship of skilled criollo artisans as they bring to life vibrant ponchos, intricate silver jewelry, and leather goods, their meticulous work paying homage to the cultural heritage passed down through generations. Admire the intricate detailing, vibrant colors, and unique designs that make these artifacts so treasured, reflecting the essence of Argentine identity.
The Beauty of the Pampa Landscape
Throughout this full-day tour, immerse yourself in the breathtaking beauty of the Pampa region, characterized by vast stretches of fertile grasslands and gently rolling hills. The sweeping landscapes, dotted with ancient estancias and quaint rural villages, provide an idyllic backdrop to the cultural and arts legacy of the gauchos and criollos.
Take a leisurely stroll through the picturesque countryside, capturing the essence of the Pampa's serene charm. Engage in conversations with locals, eager to share their stories and pride in their cultural heritage. Experience the region's unique biodiversity, catching glimpses of native wildlife and bird species that call the Pampa home.
An Unforgettable Journey
An Argentina Full Day Tour that explores the "Cultural and Arts Legacy of the Gauchos and Criollos in the Pampa" promises a one-of-a-kind experience. With its rich cultural heritage, traditional music and dance, intricate craftsmanship, and breathtaking landscapes, this journey offers a fusion of history and art that will leave you captivated and inspired.
Embark on this enchanting adventure, immersing yourself in the fascinating world of gauchos and criollos. Unravel their stories, witness their skills and craftsmanship, and embrace the warmth of Argentine hospitality. Discover the true essence of Argentina's cultural and arts legacy through this full-day tour, leaving you with unforgettable memories and a newfound appreciation for the gauchos and criollos who have shaped this vibrant nation.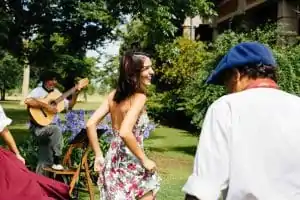 Full Day Tour: "Argentina Cultural and Arts" whit Camino Pampa
All the cultural and arts legacy of Gauchos and Criollos beautifully preserved since the colonial times in this area of the Pampa of Argentina: in towns and Estancias.
San Antonio de Areco is a community that nested generation after generation the knowledge and spirit of the handicrafters that mixed the immigrants artisanal skills with the roots and environment of the native locals.
Quite unique workshops filled with basic and old devices and tools, where the experienced artisans turn used and new materials into old fashion pieces of work.
The program:
8:20am hotel/address pick up in Buenos Aires
10:00am arrival to San Antonio de Areco: Guided tour visiting a Creole Silversmith´s Workshop. Handbuilding Pottery and painting demonstration. Textile studio: Natural dye of wool and hand woven indian style textile pieces in working looms. Chocolate and "alfajores" artisanal factory. Locally handmade cheeses and sausages shop.
1:30pm lunch in typical local parrilla (steakhouse)
3:00pm walking tour in the colonial historical neighborhood: Main square, San Antonio´s church, 100 years old gauchos´ bars.
4:00pm departure from San Antonio de Areco, return to Buenos Aires
Approx. 5:30/6:00pm arrival to Buenos Aires
This program includes:
Round trip with hotel/address pick-up in vehicle with official license and special insurance
All the activities, tickets and transfers within the town
Bilingual local guide
Lunch