When it comes to experiencing the rich culture and natural beauty of Argentina, one cannot miss exploring the estancias near Buenos Aires. Located just an hour's drive from the bustling capital city, San Antonio de Areco offers a serene and picturesque countryside experience. In this article, we will dive into the best estancias that are worth a visit, providing an unforgettable getaway in Argentina.
The Charm of San Antonio de Areco
Tucked away in the province of Buenos Aires, San Antonio de Areco is a small town known for its traditional gaucho culture. Stepping into this charming town feels like traveling back in time, as cobblestone streets, colonial-style architecture, and traditional silverware workshops line the narrow roads.
One of the main draws of San Antonio de Areco is its stunning estancias, which are traditional Argentinian ranches that exude rustic charm and offer a range of activities for visitors. From enjoying horseback riding and traditional folk shows to indulging in mouthwatering asados (barbecue), these estancias offer a true taste of Argentinian culture and countryside living.
Best Estancias in San Antonio de Areco
Estancia El Ombú
Estancia El Ombú is a hidden gem nestled in the heart of San Antonio de Areco. Set amidst vast green meadows and ancient trees, this 150-year-old estancia offers a serene escape from the city. With its warm hospitality and traditional gaucho experiences, El Ombú provides a unique glimpse into Argentinian rural life.
Upon arrival, guests are greeted with a traditional mate drink, followed by a guided tour of the estancia's historic buildings. The estancia also offers horseback riding excursions across the picturesque countryside, allowing visitors to explore the natural wonders of the region. Don't miss the opportunity to witness a thrilling gaucho show, showcasing traditional horsemanship skills and folklore dances.
Estancia La Bamba
'La Bamba' have deep roots in San Antonio de Areco's history, dating back to the early 19th century. The estancias once once sprawling ranches that acted as working farms, providing sustenance to the local community. Today, they have been transformed into boutique hotels that preserve the essence of their gaucho traditions while offering modern comforts to their guests.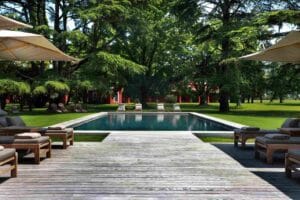 For those seeking a luxurious escape, Estancia La Bamba de Areco is the perfect choice. This upscale estancia goes beyond expectations to provide unparalleled comfort and elegance while staying true to its rustic roots.
Estancia La Porteña
Estancia La Porteña is another top-rated estancia near Buenos Aires, known for its dedication to preserving Argentinian traditions.
A standout feature of La Porteña is its close connection to the renowned Argentine writer Ricardo Güiraldes, who resided in this estancia. The property boasts a museum dedicated to Güiraldes, where visitors can learn more about his life and works while admiring the artifacts on display.
Estancia La Florita
Estancia 'La Florita' in San Antonio de Areco offer visitors a unique opportunity to experience the charm and traditions of Argentine countryside living, offer comfortable accommodations. Each room is tastefully decorated, reflecting the estancias' heritage while providing modern conveniences. Enjoy peaceful nights and wake up to picturesque views of the countryside right outside your window.
Conclusion
In conclusion, if you're planning a visit to Buenos Aires, make sure to include a trip to San Antonio de Areco to experience the best estancias near the capital city. From immersing yourself in the rural gaucho culture at Estancia El Ombú to exploring the legacy of Ricardo Güiraldes at Estancia La Porteña, these estancias offer a unique blend of tradition, nature, and hospitality.
Whether you're a nature enthusiast, a history buff, or a food lover, the estancias near Buenos Aires in San Antonio de Areco have something to offer everyone. So, pack your bags, venture into the Argentine countryside, and create memories that will last a lifetime.