Are you ready for an unforgettable horseback riding vacation in Argentina? Look no further than San Antonio de Areco, a charming town that offers a unique blend of cultural experiences and thrilling equestrian adventures. With its picturesque landscapes, rich history, and world-class horseback riding opportunities, San Antonio de Areco is the perfect destination for horse enthusiasts and travelers seeking an authentic Argentine experience.
Discover the Beauty of San Antonio de Areco
Nestled in the heart of the Pampas region, San Antonio de Areco is known as the birthplace of the Gaucho culture. This captivating town is a haven for horse lovers, offering a wide range of activities and experiences to make your horseback riding vacation truly memorable.
As you explore the cobblestone streets and colonial architecture, you'll find yourself immersed in the rich cultural heritage of Argentina. The town boasts numerous traditional estancias (ranches) that offer horseback riding excursions, allowing you to soak up the authentic Gaucho way of life.
Experience the Thrill of Horseback Riding
Imagine yourself galloping through vast open fields, feeling the wind in your hair as you explore the breathtaking landscapes of the Argentine countryside. Horseback riding in San Antonio de Areco allows you to indulge in this exhilarating experience while connecting with the country's rich equestrian traditions.
Whether you are a seasoned rider or a beginner, there are options for everyone. Expert guides will ensure your safety and provide you with valuable insights into local traditions and horsemanship techniques. You'll have the opportunity to ride well-trained horses that will make your equestrian adventure smooth and enjoyable.
San Antonio de Areco: The Gaucho Experience
One of the highlights of your horseback riding vacation in San Antonio de Areco is the chance to immerse yourself in the Gaucho culture. You'll have the opportunity to witness traditional Argentine horse-riding skills, such as the world-famous "doma" or horse taming techniques.
Take part in the local customs and traditions, such as participating in a traditional asado (barbecue), where you can savor delicious cuts of Argentine beef while sharing stories with fellow horse enthusiasts. Experience the warmth and hospitality of the locals as they welcome you into their world.
Unforgettable Horseback Riding Day in San Antonio de Areco
→ Arrival in San Antonio de Areco
Your horseback riding day in San Antonio de Areco starts with a warm welcome from our experienced guides who will be your companions throughout your adventure. We'll provide you with a brief introduction to the Gaucho culture and ensure you have all the necessary equipment for your ride.
→ Exploring the Estancia
As we venture out into the vast countryside, you'll witness the beauty of San Antonio de Areco's landscapes up close. Enjoy the tranquility as you ride through open fields, lush meadows, and ancient woodlands. Capture the moment with breathtaking photographs of the stunning scenery.
→ Traditional Gaucho Activities
During your horseback riding day, you'll have the opportunity to learn traditional Argentine horsemanship techniques and participate in activities such as herding cattle or lassoing. Experience the thrill of channeling your inner Gaucho as you master these ancient skills.
→ Authentic Gaucho Lunch
After an exhilarating morning of riding, we'll treat you to a delicious traditional Argentine lunch. Savor our delectable asado, enjoying mouthwatering cuts of beef while sharing stories and laughter with your fellow riders.
→ Afternoon Ride and Farewell
As the day unfolds, we'll continue our horseback adventure, exploring more of San Antonio de Areco's captivating landscapes. Feel the connection between horse and rider deepen as you ride alongside your newfound friends.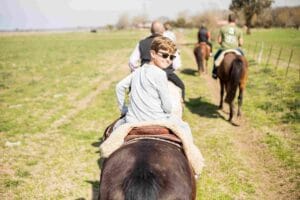 As the sun starts to set, we'll conclude our horseback riding day with a gentle ride back to the estancia. You'll bid farewell to your trusty steed, reflecting on the unforgettable memories created during this magical day in San Antonio de Areco.
Book Your Horseback Riding Adventure Today
Don't miss the opportunity to embark on a horseback riding vacation of a lifetime in San Antonio de Areco. Immerse yourself in the enchanting Gaucho culture, witness breathtaking landscapes, and create lasting memories that will stay with you forever.
Contact us today to book your horseback riding day and experience the thrill, beauty, and authenticity of San Antonio de Areco. Let us be your guide to discovering the heart and soul of Argentina's equestrian traditions.