THE BEST
ESTANCIA DAY TOUR
NEAR BUENOS AIRES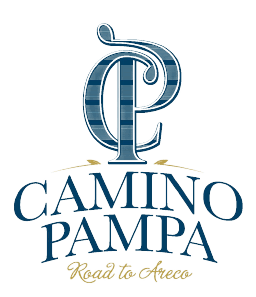 Welcome to Camino Pampa, the best ESTANCIA DAY TOUR near Buenos Aires.
Located at the Gate of the Gaucho Culture and Traditions: San Antonio de Areco. With an unique sense of place developed through generations of gauchos working in the ranch.
The Estancia is a intimate retreat in the lush vegetation of the Pampas with rooms to cocoon you in comfort. Find refuge and resplendence in every corner of this historical and traditional home and working ranch.
The Estancia location is in the center of the green plains: perfect for an early morning jog or a very slow breakfast.
Visitors from across the world were drawn by the experience on offer in this ranch hotel, which nowadays is a byword for well-being and well-kept gaucho traditions.
The Main house draw their design inspiration from the golden times of Argentina, expressed in wooden ceilings and flooring, natural materials and old fashion comfort. Classic in style, with cozy details, each room is an airy, light-filled cocoon, balancing a sense of intimacy with stunning openness to the vast Pampas.
Had an amazing tour! everything was well organised by Camino Pampa and our local guide was very knowledgeable and explained everything in detail. If you want to have a unique experience in the countryside I highly recommend this tour.
My two friends and I booked this through Airbnb experiences and had a great time. Our tour guide was excellent, and everything from the silver workshop to the horse riding, food, and music was relaxing and enjoyable. Unique experience & would recommend.
We had a great day relaxing outside of BA. The town tour was good culminating in the silversmiths craft shop. Excellent English from our guide. He has many stories to tell of the gauchos. Ranch experience was somewhat disappointing. It's hard to take 25 people out riding without feeling like a carnival experience. It had been raining on the day we went so had to have Asado on covered porch. The meal had lots of variety and was plentiful.
My husband and I had the best experience with Camino Pampa. Our guide was such a delight to talk to all day, for the day showed us around San Antonio de Areco and then El Ombu estancia. The estancia was a fun and entertaining way to spend the afternoon. I definitely recommend booking this.
ESTANCIA DAY OPCIONAL ACTIVITIES
ACTIVITIES AND FOOD
The Estancia offers a countryside retreat with activities such as horseback riding, relaxation, and dining.
The large park surrounding Estancia de Areco includes old trees, plants, flowers, and swimming pools.
Explore the organic garden, tack room, farm animal corrals, and enjoy carriage rides on the property.
Various activities available: bicycles, play room, billiard table, soccer, volleyball, and more.
After lunch, experience live folkloric music, dancing by gauchos, and a unique horse taming demonstration.
Gastronomy reflects Argentine cuisine with empanadas, barbecue lunch, tea time snacks, and fixed menu dinners.
Meals include appetizers, salads, drinks, wine, desserts, coffee, and continental breakfast.
LODGING (OPTIONAL)
There are eleven spacious refurbished rooms, with private bathrooms and vintage furnishings.
Each of the rooms have been uniquely designed and decorated, and all of them have excellent natural light.
There are double, triple and quadruple rooms, with the possibility of adding extra beds.
Room en suite, private bathroom, led television, complimentary Wifi, air conditioning, bath amenities, hairdryer, daily housekeeping.
Transfer: to/from BA door to door in cars/vans with official license and professional driver
Pick up/drop off: At your hotel or apartment in Buenos Aires. We can also pick you up/drop you off in the Cruise Terminal in BA, in the Domestic Airport J. Newbery or in the Intl. Airport Ezeiza (in this case extra fees applies)
You can bring up to one handbag and one case per person. If you need to bring more luggage to the Estancia Day & Lodge: please clearly clarify it in your request so we can specially set the transportation for you.
Room en suite, private bathroom, led television, complimentary Wifi, air conditioning, bath amenities, hairdryer, daily housekeeping,
Activities: horseback riding, carriage ride, two swimming pools in summer, bicycles, play room with games and a billiard table, soccer and volleyball field.
Demonstrations: live folkloric music with dancers and an unique horse taming demonstration.
Full board four meals:

Reception with meat pie appetizer (empanadas) with drinks.
Barbecue lunch of argentine asado: sausages, beef, chicken, pork, with salads, non alcoholic drinks, ½ a bottle of wine per person, dessert and tea/coffee.
Tea time snacks (homemade pastries) with coffee/tea/sodas.
Dinner (entrée, main course and dessert) Fixed menu (not á la carte)
Continental breakfast

Drinks: during the meals: wine, beer, sodas, water, juice.
We can also prepare a vegan/vegetarian/celiac menu for you: reception with cheese and olives or vegan "empanadas", and main course of the lunch: a pasta dish (noodles with sauce or cannelloni), an omelette with cheese or sautéed vegetables, all with three different fresh salads. If possible: please let us know in advance about your choice for the main dish.
PRE- BOOK YOUR ESTANCIA DAY TOUR
Please choose your date and fill out this pre-booking form. We will be sending you the program, prices and how to confirm your reservation