Exploring the cultural heritage of a country can be an enriching and fascinating experience. When it comes to Argentina, one of the best ways to immerse yourself in its traditions is by embarking upon a Tradition's Day Tour in San Antonio de Areco. This picturesque town, located approximately 113 kilometers northwest of Buenos Aires, offers a unique opportunity to witness the authenticity and charm of Argentina's cultural heritage. In this article, we will delve into the captivating world of a tradition day tour in San Antonio de Areco, its highlights, and the unforgettable experiences it offers.
Discover the Charm of San Antonio de Areco
San Antonio de Areco is commonly referred to as the birthplace of the gaucho tradition in Argentina. Stepping into this charming town feels like taking a step back in time, as its cobbled streets, colonial architecture, and artisanal workshops preserve the essence of the country's rural past. For those seeking to escape the hustle and bustle of city life, San Antonio de Areco provides a tranquil and authentic retreat.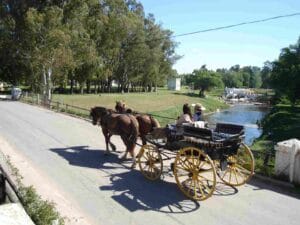 Immerse Yourself in Traditional Gauchos
One of the main highlights of a Tradition's Day Tour in San Antonio de Areco is the opportunity to interact with gauchos, the iconic figures of Argentina's cultural identity. Gauchos are skilled horsemen, known for their traditional attire consisting of wide-brimmed hats, loose trousers called bombachas, leather boots, and colorful ponchos. Through engaging activities such as horseback riding, gaucho demonstrations, and even participating in a traditional asado (Argentine barbecue), visitors can gain a deeper understanding of the gaucho way of life and their profound connection with the land.
Witness the Art of Silversmithing
San Antonio de Areco is also renowned for its silversmithing tradition. Walking through the town's narrow streets, visitors will encounter numerous goldsmiths and silversmiths crafting intricate pieces of jewelry and decorative items. These skilled artisans use traditional techniques passed down through generations, enabling them to create unique and exquisite silverware. A Tradition's Day Tour offers the chance to witness these talented craftsmen at work, and even partake in a workshop to learn the art of silversmithing firsthand.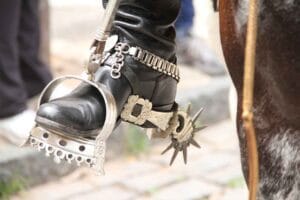 Explore the Museum and Estancias
To fully comprehend the cultural significance of San Antonio de Areco, a visit to the Museum and Estancias is a must. The museum showcases a rich collection of artifacts, including historical documents, traditional garments, and horse saddlery, providing valuable insights into the region's vibrant past. Additionally, a guided visit to the estancias, traditional Argentine ranches, allows visitors to experience the rustic lifestyle firsthand, with opportunities to observe livestock rearing, traditional dances, and folk music performances.
A Celebration of Argentina's Folklore: Tradition Day Festival
For those fortunate enough to visit San Antonio de Areco in November, the tradition day tour coincides with the town's annual Tradition Day Festival. This vibrant celebration showcases the best of Argentine folklore and is a true feast for the senses. Visitors can witness traditional folk dances, marvel at the skilled horsemanship displays, and indulge in mouthwatering traditional food. The festival provides an immersive experience that encapsulates the spirit and liveliness of Argentina's cultural heritage.
Tradition Day Festival Experience Whit Camino Pampa
This is the oldest and more prestigious gaucho festival in Argentina (since 1939), that takes place every month of November in San Antonio de Areco Town, that ends in Sunday November 11th with a large parade of gauchos and horses going through the parks and streets of the Town.
There are gauchos from all over Argentina gathering here with their families and horses for an entire week of different events: folkloric music, dances, fairs, large barbecues, cultural events, arts expositions and gauchos´ rodeo.
The program:
8:15hs Address/hotel pick up in Buenos Aires
10:00 Arrival to San Antonio de Areco and walking tour in historic neighborhood: workshops of Creole Silversmith and old gaucho bars.
11:00 Folcloric Music and Parade of Gauchos and herds of tamed horses
12:30 Transfer (15´) to exclusive and authentic "Estancia" (old working ranch): Reception with drinks, complete lunch of argentine "asado" (barbecue), horseback riding, carriage riding or swimming pool, visit to the farm´s facilities, folkloric live music
5:00pm departure from the Estancia, return to Buenos Aires
Aprox.: 6:30/7:00pm arrival to Buenos Aires
It includes:
Round trip with hotel/address pick-up in vehicle with official license and special insurance
Guided walking tour (English)
Bilingual local guide
Access to the Parade of gauchos
Transfer within Town and Estancia
Reception with empanadas/drinks. Lunch, complete with drinks wine/beer/soft drinks
All the activities at the historical Estancia
The program may vary due to changes in the organization of the Festival and weather conditions, and can be also postponed.