The Gaucho culture in Argentina is an integral part of the country's history and identity. The Gauchos, Argentine cowboys, have left an indelible mark on the nation's heritage, and their traditions and lifestyle continue to be celebrated to this day. From horseback riding to indulging in traditional cuisine, exploring the Gaucho culture offers a unique and immersive experience that you won't want to miss.
Gaucho Activities
When immersing yourself in the Gaucho culture, there are numerous activities that allow you to embrace their way of life. One of the most popular activities is horseback riding. Gauchos are renowned for their exceptional riding skills, and exploring the vast landscapes of Argentina on horseback provides a genuine taste of their lifestyle. Whether you embark on a day-long excursion or a multi-day adventure, you'll have the opportunity to admire the stunning countryside while mastering the art of riding.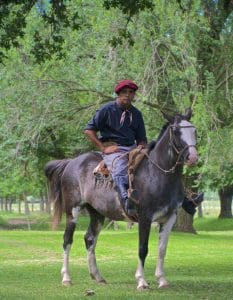 Another thrilling activity to experience is roping and herding cattle. Watching Gauchos skillfully herd cattle is an awe-inspiring sight, and you can actively participate in this age-old tradition. Learn the techniques of lassoing and herding under the guidance of a skilled Gaucho, and feel the rush of adrenaline as you work alongside these experts.
For those seeking a cultural experience, attending a traditional Gaucho festival is a must. Festivals such as the Fiesta de la Tradición offer a glimpse into the heart of Gaucho traditions. From lively folkloric dances to thrilling equestrian shows, these events showcase the passion and pride that the Gauchos hold for their culture. Immerse yourself in the spectacle and witness demonstrations of traditional crafts, music, and cuisine.
Gaucho Places
Exploring the Gaucho culture goes hand in hand with discovering the breathtaking landscapes where Gauchos roam. The Pampas, a vast fertile plain in central Argentina, is the heartland of the Gaucho culture. This region is rich in tradition and is home to many estancias (ranches). Here, you can experience authentic Gaucho life, observe their skills firsthand, and even stay overnight in a traditional estancia to fully immerse yourself in their lifestyle.
Another remarkable destination is San Antonio de Areco. Located just outside Buenos Aires, this charming town is considered the birthplace of the Gaucho tradition. The picturesque streets are lined with traditional shops selling handmade crafts and saddlery, providing an excellent opportunity to bring home a piece of authentic Argentine Gaucho culture.
Gaucho Food
A journey into the Gaucho culture would not be complete without savoring the exquisite flavors of their traditional cuisine. Argentine beef is renowned worldwide, and the Gauchos have perfected the art of grilling it to perfection. The famous asado, or barbecue, is a staple of Gaucho cuisine. Indulge in succulent cuts of beef cooked over an open fire, infusing the meat with extraordinary flavors.
Another local specialty to try is empanadas. These delicious filled pastries can be found throughout Argentina, but each region has its unique variation. Gauchos have their own take on empanadas, typically filled with seasoned ground beef, onions, and spices. Each bite is a tantalizing explosion of flavors that is sure to satisfy your taste buds.
To accompany your meal, indulge in a glass of mate. This traditional Argentine infusion is derived from the yerba mate plant and is often shared among friends and family. Experience the warmth of Argentine hospitality as Gauchos welcome you to join them in sharing a gourd of mate, a ritual that encapsulates their spirit of camaraderie and tradition.
In conclusion
The Gaucho culture in Argentina is a treasure trove of traditions, activities, places, and food that deserve to be explored. Whether you choose to saddle up and ride alongside Gauchos, attend vibrant festivals, or savor their delectable cuisine, immersing yourself in the Gaucho culture promises an unforgettable experience. Discover this rich and vibrant heritage, and let the spirit of the Gauchos captivate your heart.